Aviation workers are essential services, banned from taking part in a strike, according to the new Nigerian law, unions and workers paralyze airports!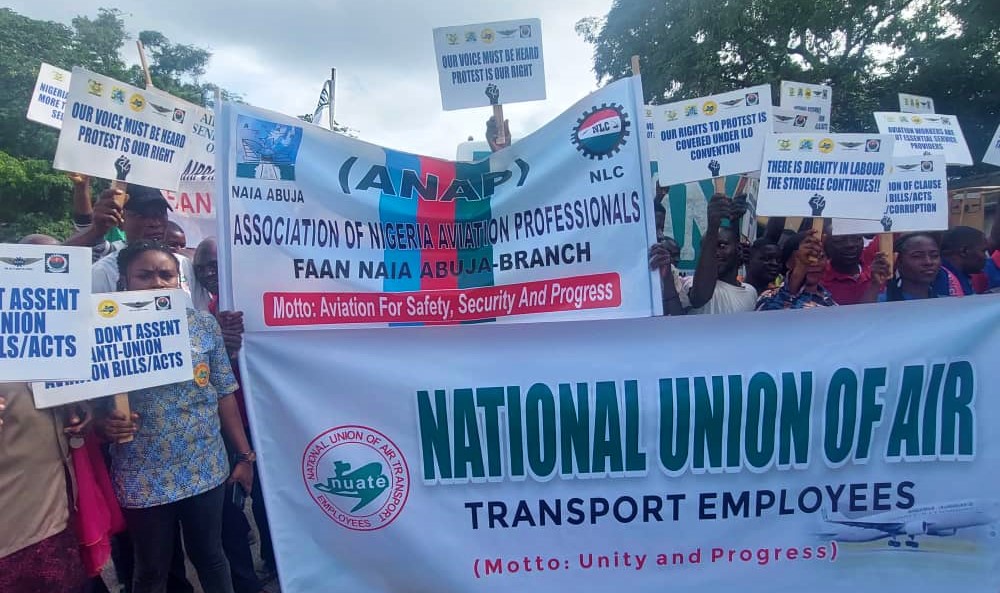 A new law in Nigeria has created a chaotic environment at several airports in the country as aviation workers are unhappy with it and are forcing airports to shut down which is also making travelers unhappy.
On Monday, aviation unions paralyzed operations at the country's airports due to a recently passed civil aviation law and Thousands of passengers were stranded at airports across the country as many said they missed important appointments.
Five major aviation unions had called last Thursday for the cancellation of "unfriendly clauses" in the new law introduced by the government, according to .
The workers are taking it head on and have vowed to demonstrate at every airport in the country and picket aviation agencies in Abuja and Lagos to demand the removal of the clauses.
The unions have called on the federal government and the National Assembly to repeal the clauses within 14 days or face a complete shutdown of the aviation industry.
The various contesting unions are "Air Transport Services Senior Staff Association of Nigeria (ATSSSAN)", "National Union of Air Transport Employees (NUATE)", "National Association of Aircraft Pilots and Engineers (NAAPE)", "Association of Nigerian Professional and professional aviation (ANAP)", and the "Amalgamated union of employees of the technical and leisure services of the public service of public companies (AUPCTRE)".
The clauses for which this situation has arisen, are contained in the provisions of Article 67, paragraphs 1, 2 and 3 of the new law, which classified aviation workers as engaged in essential services.
Article 67 read,
"All services which facilitate and maintain the smooth, orderly and safe take-off, flight and handling of aircraft, and the disembarkation and evacuation of passengers and cargo respectively at all airfields in Nigeria are designated as essential services in accordance with the provisions of Section 11 (I) of the Constitution of the Federal Republic of Nigeria."
Subsection 2 further added,
"The Minister may, by regulation, prohibit all or such categories of workers, managers and other employees of persons, whether legal or natural, engaged in the provision of the services specified in subsection (1) of this section from participating to a strike. or any other industrial action.
The aforementioned trade unions, however, did not accept the amended provisions and stated that the implementation of the new CAA cannot materialize.
---