Non-government essential services barred from fuel tanks during hard lockdown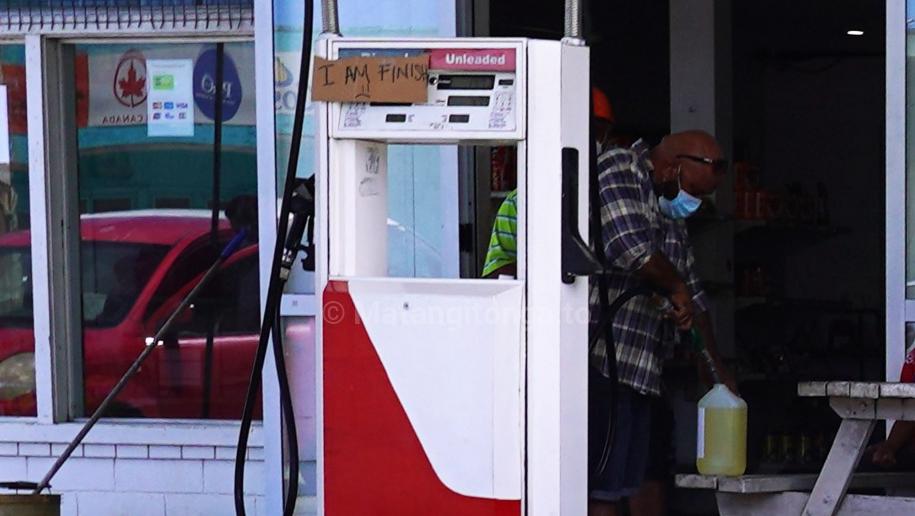 If essential non-government services are running out of petrol this week, that's just too bad – no recharging is allowed until Tonga's strict lockdown ends on Saturday morning.
Only government vehicles are allowed to refuel at designated service stations this week, while privately run "essential services" are not allowed to refuel there.
"They must have a 'P' license plate," said NEMO spokesman told Matangi Tonga today.
Although the travel authorization document issued by the National Emergency Management Office to the essential private sector and other services authorizes authorized personnel and vehicles to pass through roadside checkpoints, the document cannot be used to access gasoline.
So what happens when essential services operated by the private sector run out of gas?
"You were supposed to fill up before the lockdown!" said the spokesperson.
Well, we filled up, of course, but it's now mid-week and we've run out of gas to provide essential services and our staff have run out of gas for their essential work. So why is only the government allowed to refuel?
NEMO suggested that one of the two petrol wholesalers in Tonga may be selling drums of petrol.
Meanwhile, Tonga Petroleum Regulations prohibit unauthorized persons from keeping more than 4 gallons of petroleum in homes and buildings.
The regulations state that shops and garages can only legally store up to 44 gallons if the gasoline is kept in an "approved tank." The issuance of a license is left to the discretion of the Minister of Police.
There are fees for gasoline storage licenses and penalties for violators.
The hard lockdown for Tongatapu and Vava'u began on March 20 and will continue until 5:00 a.m. on Saturday March 26, with daily curfew hours from 8:00 p.m. to 8:00 a.m.
The Prime Minister has said all retail and wholesale businesses, banks, petrol stations, bakeries and schools must remain closed for the duration of this week's lockdown.
Exceptions had to be made for the public needing to visit pharmacies, farms and fishing during the day. He said the hard lockdown was put in place to slow the spread of the covid-19 virus.
In previous shutdowns, designated essential services in the private and non-governmental sectors included telecommunications operators, news media, security services, maritime and port contractors, public bodies, aid agencies , border agencies, building and construction related to critical infrastructure, legal services, health providers, public safety, essential transport and vehicle maintenance services, sanitation, etc. But these services don't have "P" license plates – so at the moment they can't refuel when they need to.